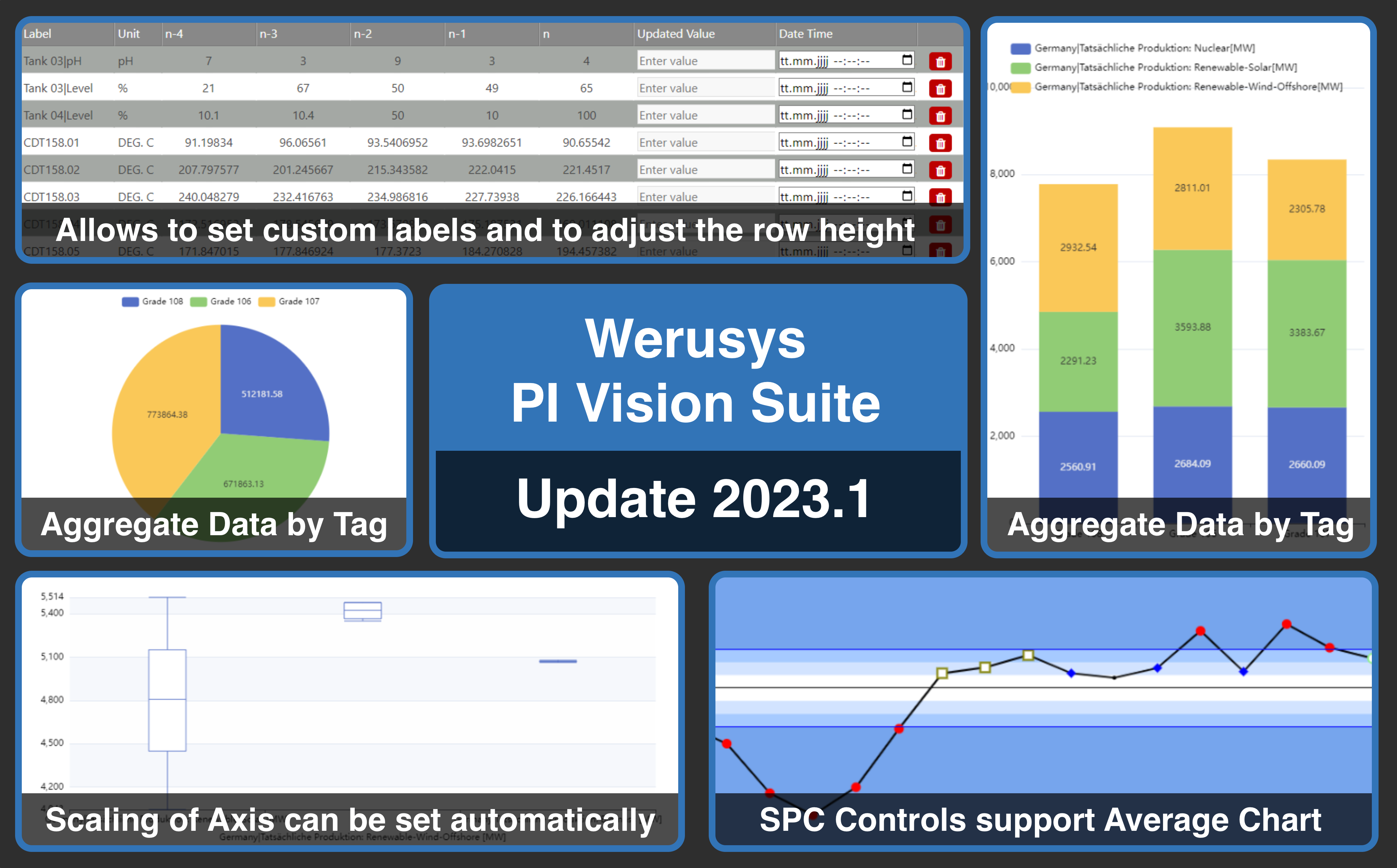 Werusys PI Vision Suite – Update 2023.1
The Werusys PI Vision Suite is a powerful software that helps companies visualize and analyze their data. With the new version 2023.1, many improvements and new functions have been introduced that make working with PI Vision even more efficient and convenient.
One of the most interesting new features concerns the Pie, Doughnut and StackedBar controls: these now support aggregating data based on a different tag. This means, for example, that you can have data aggregated automatically per product produced or per condition of another machine.
The two controls SPC Trend and the SPC Histogram can now be configured to display Average Charts instead of Individual Charts. By combining multiple data points into one in this mode, the view becomes more robust to outliers and variability in the process. Thus, the Average Chart is better suited for monitoring changes at the process level rather than individual values.
With this new version, the Boxplot now supports automatic adjustment of axis scaling. This feature helps to display the data within the control in an optimal way to draw conclusions even faster and to better identify possible outliers in the data. The automatic adjustment of the axis scaling is based on the data values themselves and ensures that the boxplot always represents the entire data distribution without losing important information. This makes data interpretation even more effective and decision making easier.
The DataEntryMulti control has also been improved by allowing the customization of tag labels. This new feature increases flexibility in the use of the control and allows users to more easily keep track of and customize the control to their needs. In addition, the row height can now be adjusted via the control's configuration, allowing the control to be perfectly integrated into existing displays.
All in all, the new version of Werusys PI Vision Suite offers many useful improvements and new functions that make working with the software even more efficient and convenient. Werusys is thus once again setting standards in data analysis and data visualization and underlining its position as a leading provider in this field.
The Werusys PI Vision Suite
Get the most out of your PI system
The Werusys PI Vision Suite expands your possibilities with the help of a wide range of new and perfectly customized controls. In addition, the PI Vision Suite allows you to embed Seeq analyses of any kind.
New possibilities
More than a dozen additional visualization options
Regular updates
Always up to date and ready to use for any PI Vision version
Embed Seeq analyses
Display analyses prepared in Seeq directly in PI Vision
First class support
Direct contact with PI System experts around the clock
Seeq
Accelerated Insights, Improved Outcomes
In the current hype around predictive analytics, machine learning, and data science, what's missing are solutions to the real challenges to an analytics-driven organization. Tapping the expertise of your current employees. Support for collaboration and knowledge capture to foster sharing and reuse of analytics efforts. And the ability to rapidly distribute insights to the people who need them to quickly improve outcomes.
Intuitive. Visual. Innovative.
Seeq is the first application dedicated to process data analytics. Search your data, add context, cleanse, model, find patterns, establish boundaries, monitor assets, collaborate in real time, and interact with time series data like never before.
Fast. Flexible. Collaborative.
Whatever your process historian or operational data system of record – the OSIsoft® PI System®, Honeywell's Uniformance® PHD, Emerson DeltaV and Ovation, Inductive Automation's Ignition, AspenTech IP.21, Wonderware, GE Proficy or any other – Seeq can connect and get you working in minutes.