Power of Data with AVEVA PI Vision 2023 and Werusys PI Vision Suite
Data is the lifeblood of any organization. With the exponential growth of data from multiple sources, a robust system to visualize and analyze this data is crucial. AVEVA PI Vision 2023 (Release Notes) and Werusys PI Vision Suite are leading the way in data visualization and analysis, making it easy for organizations to turn raw data into actionable insights.
AVEVA has recently released PI Vision 2023 (version 3.8.0.0), a web server-based product offering a next-generation display editing application. This release provides absolute sizing and positioning of symbols, support for geometric shapes and images, and configurable symbol colors, making it a game-changer in the field of data visualization.
One of the key features of the PI Vision 2023 release is the modern authentication via OpenID Connect for a streamlined, secure user experience. This aligns with AVEVA PI Server 2023, making it simpler to manage resources and users across your enterprise. Importantly, support for viewing imported PI ProcessBook displays has been discontinued, encouraging users to migrate their PI ProcessBook displays to native, editable PI Vision displays using the PI ProcessBook to PI Vision Migration Utility.
Ensuring compatibility with all versions of PI Vision is a vital aspect of Werusys' mission. The Werusys PI Vision Suite is an extension suite offering more than 20 new visualizations and widgets. These features are designed to maximize the value of your PI Vision installation, enabling you to harness your data's full potential.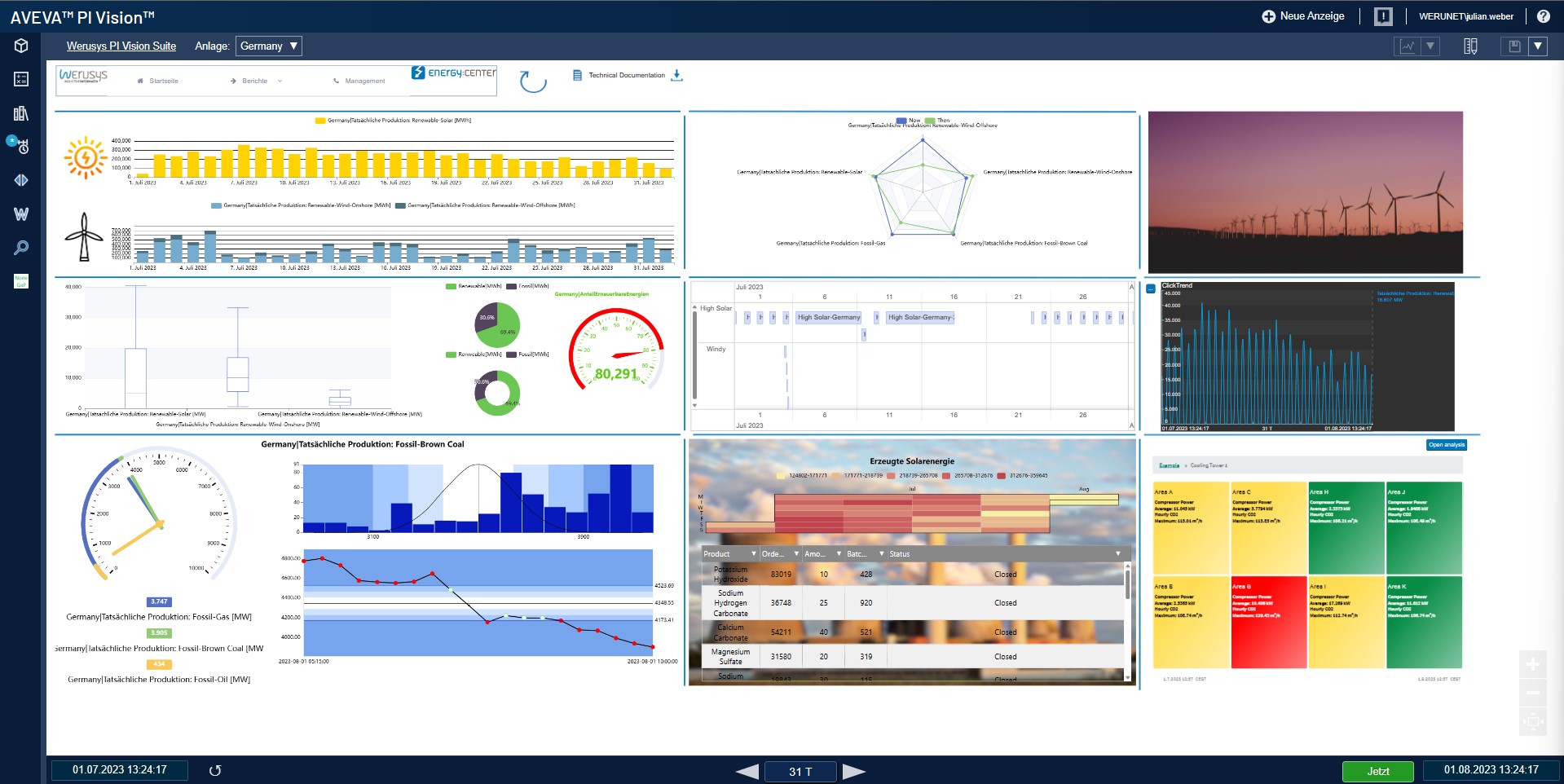 Compatible with PI Vision 2023 and new navigation menu
The latest update of the Werusys PI Vision Suite ensures compatibility with AVEVA PI Vision 2023. This update, scheduled for release in mid-August, will provide a seamless experience for all users, regardless of the PI Vision version they're utilizing.
One of the standout features of this update is the brand new PI Vision navigation symbol. This symbol enhances the user experience by making navigation within PI Vision more straightforward and comfortable. With this navigation tool, users can efficiently browse through their PI Vision displays, improving their workflow and productivity.

The synergy of AVEVA PI Vision 2023 and the Werusys PI Vision Suite, along with Werusys' dedication to ensuring compatibility with all PI Vision versions, empowers users to leverage their data like never before. With these tools at your fingertips, you can harness the full potential of your data, turning it into actionable insights that can drive your organization forward.
Stay tuned to the latest developments in AVEVA PI Vision and Werusys PI Vision Suite as we continue to deliver innovative solutions for your data visualization and analysis needs. Experience the future of data analysis today!
Move to PI Vision 2020? – End of Process Book Support
Latest News
Power of Data with AVEVA PI Vision 2023 and [...]
Seeq and Grafana  The universe of data analytics [...]